Atletico Madrid Fans Come Up With Protest Banner To Stop Cristiano Ronaldo Signing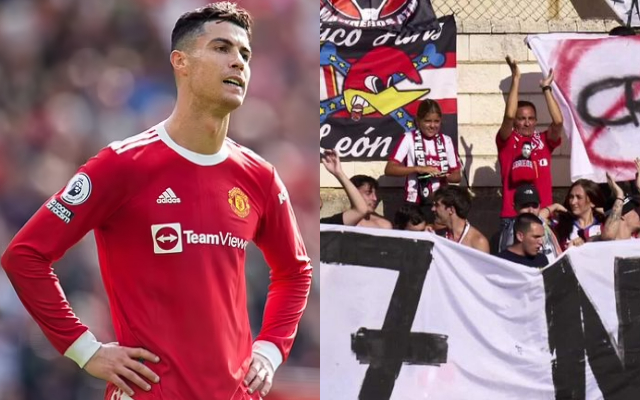 Portuguese superstar, Cristiano Ronaldo is yet to confirm his future at Manchester United. On 27 July 2022, he came back to Manchester and joined teammates for further training. However, as per reports, he had a crunch talk with the new manager, Erik ten Hag regarding his future. Still, he reportedly wants to move out of the club to play Champions League football.
Since the start of the pre-season for this Manchester side, Ronaldo did not join the team due to some family emergencies. Meanwhile, his agent Jorge Mendes looked for different suitors for him in the likes of Chelsea, Atletico Madrid, Bayern Munich, Paris Saint Germain, and Roma. Unfortunately, all these clubs have rejected this player so far. Now, Atletico Madrid fans were seen displaying banners to stop the signing of Ronaldo ahead of the next season.
Atletico Madrid fans also started an online campaign against Cristiano Ronaldo
Earlier this week, several reports were there that Ronaldo himself has managed to convince the head coach of Atletico Madrid, Diego Simeone to recruit him. But fans did not like the idea at all. They became united behind the hashtag #ContraCR7 [AgainstCR7] on Twitter to voice their opposition to the club signing Ronaldo.
Now, on 27 July 2022, Atletico Madrid played a friendly against third-tier Numancia. The Spanish side won the match 4-0. But, a significant incident occurred when ATM fans were seen displaying banners against the possibility of acquiring Cristiano Ronaldo. They came up with a banner with the phrase "CR7 NOT WELCOME". It clearly indicated that this club's fans do not want to see him donning that famous Atletico Madrid Jersey.
Speaking about this whole transfer speculation of Ronaldo, Atletico Madrid's president, Cerezo completely ruled out the chance of signing him from United on Tuesday, 26 July 202. He said: "I don't know who invented the Cristiano story, but I'll tell you that it's practically impossible that he comes to Atletico Madrid," Cristiano Ronaldo still has one year left in his contract with Manchester United. Even, ten Hag really wants him to stay as he considers Ronaldo an integral part of his squad.