Watch: Batter hilariously forgets to put on his pads, while umpire is busy on his phone in a village game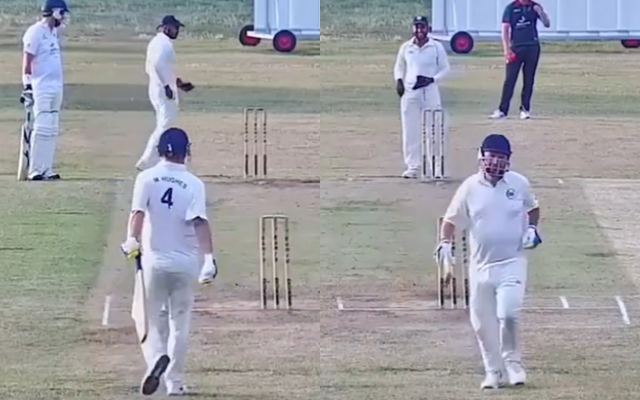 A hilarious moment on the field in a village game in England has done rounds on the internet and has left everyone in splits. In the video, a batter named M Huges walked into bat after a wicket fell, but forgot to put his pads on. The wicketkeeper of the opposite team pointed it to him.
At first, he thought that the keeper was trying to distract him but soon realised that he was actually not wearing the pads. "You're not wearing pads, mate," pointed out the keeper, "Eh? That chat won't work on me, champ," Hughes replied. "I'm serious," said the keeper, and the batter realized his mistake.
In addition, the umpire was busy on his phone and not visible in the video when all this transpired. Before batting, Hughes was giving himself a pep talk. When he took his guard, he realized that the umpire was on his phone.
Watch the video here
I've had to bat up the order at least once because of a teammate doing this

— Jameson Tucker (@jwdtucker) July 20, 2022
A player from village cricketer revealed that he has been promoted to bat up the order more than once due to a similar situation. "I've had to bat up the order at least once because of a teammate doing this," he tweeted.
In the meantime, the England team is currently playing against South Africa at home. They lost the first ODI match of the series by 62 runs, which also happened to be Ben Stokes' last ODI match. The star all-rounder had announced his retirement a day before the game.
With the series on the line, the two teams will play the next two ODI matches at Old Trafford in Manchester on the 22nd of July and at Headingley in Leeds on the 24th of July. The ODI's will be followed by a three-match T20I series, starting on the 27th of July. The two teams will then clash in a three-match Test series, with the first match starting on the 17th of August at the iconic Lord's Stadium in London.