Watch: Ravichandran Ashwin And Yuzvendra Chahal Witness Massive Fan Following Of Sanju Samson After Reaching Thiruvananthapuram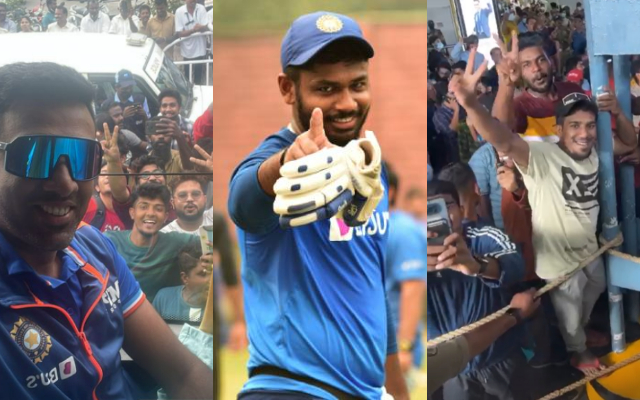 On 25 September 2022, India won the three-match T20I series against Australia at a margin of 2-1. In the series decider in Hyderabad, India managed to defeat the current World Champions in the shortest format of the game. Now, ahead of the 20-20 World Cup, they will be in action again against South Africa in another three-match T20I series. 
The series will kick off on 28 September 2022. The first match will take place in Thiruvananthapuram. However, Team India reached the city for the first encounter on 26 September as Ravichandran Ashwin and Yuzvendra Chahal shared stories on social media. However, those went viral as they tagged the Indian wicketkeeper, Sanju Samson.
Here are the shared stories on their Instagram: 
Ravichandran Ashwin and Yuzvendra Chahal witness massive support for Sanju Samson as his native state is Kerala
Speaking of the shared stories on Instagram, Ashwin shared a selfie with the crowd who were seen outside of the team bus. In that story, he tagged Sanju Samson with a caption: 'Sanju sanjoo.' On the other hand, Chahal shared the image of the crowd by tagging the Indian wicketkeeper with a 'Hi'.
It seemed that the people of Kerala were chanting Sanju Samson's name seeing the Indian Team bus. Seeing that massive fan following, this spin duo of India shared such stories. However, the people of Thiruvananthapuram will not see their her in action as he is not part of the squad for this series. Sanju Samson is currently busy captaining the India A side in a three-match ODI series against New Zealand A.
However, his fans were not happy at all as he did not get a chance in the final squad for the 20-20 World Cup of India. Even, he failed to get a place among the announced four stand-by players. Speaking of the ongoing series, India A have already bagged that ODI series over the Kiwis under the leadership of Sanju Samson. Now, Sanju will look for a clean sweep when they will take on New Zealand A for the third match of the series in Chennai on 27 September 2022.