Aaron Finch optimistic about Australia's chances in the 20-20 WC final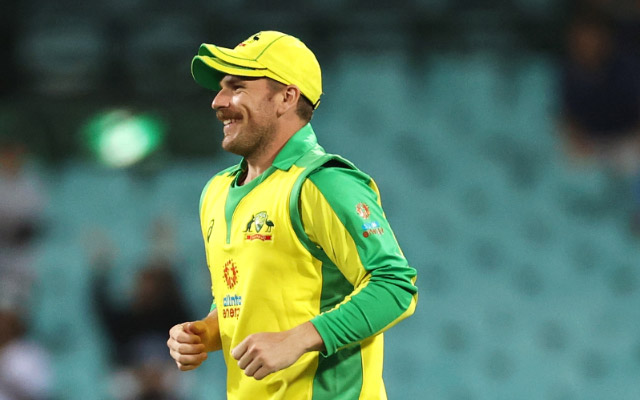 Australia will take on New Zealand in the final of the 20-20 World Cup on 14th November. Both teams are searching for their first title. While Australia have fared brilliantly in almost every global event, given the conditions and team form, where they had lost their previous two series to West Indies and Bangladesh, not many had backed them to reach the final.
However, against all odds, the team booked a final berth. Barring a blip against England, Australia have been fairly dominating against all oppositions. Skipper Aaron Finch is ecstatic about the teams' performance and said that despite being written off, the team was confident to perform well in the tournament.
"It wasn't unexpected. We came here with a clear plan to try and win this tournament. We always felt that we have the depth and quality to do that," Finch said on the eve of Sunday's final.
"Lot of people had written us off from the start, so it has been really impressive the way we have gone about our business. Everyone has prepared really well and had match-defining performances at some point, the guys are up and about for tomorrow," Finch said.
"We had a lot of confidence within, we were confident about how we were preparing, our strategy was coming together. So it has not defied expectations, we came with a clear plan to win the tournament and we still feel we have the squad to do that."
New Zealand's  bowling has been very good throughout the tournament. The likes of Tim Southee, Trent Boult and the spinners have played pivotal roles in New Zealand's juggernaut. Finch, who is struggling with poor form, accepted that it won't be easy against the Kiwi bowlers but said that he had a great training session and is keen to perform well in the match.
"It would be another challenge with Trent Boult's left-arm swing and Tim Southee who can swing the ball away and also knocks it off the seam and slides it a little bit. I had a really good hit in the training, so feeling good going into tomorrow."
Finch also backed Australia to claim their maiden title. "Absolutely, it is one that has eluded us in the past and the fact that we are in the finals, it gives us a great opportunity to rectify that," he said.
"It will be a great game, New Zealand is a great team, they have been to all finals over the last six years, so looking forward to it."