'Cumball reigns supreme on Bazball' – Twitter reacts as Pat Cummins dismisses Joe Root during 3rd Ashes, record 11th time in Tests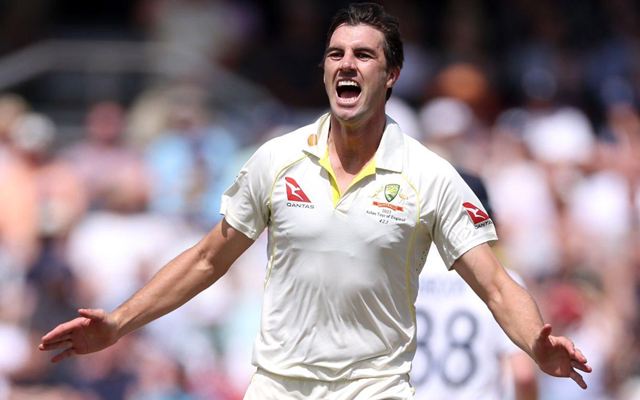 In the highly anticipated 3rd Ashes match of 2023 at Headingly, Pat Cummins once again showcased his mastery over Joe Root by dismissing him for the 11th time in Test cricket. The contest between these two stalwarts has become a captivating subplot in the fierce rivalry between Australia and England.
With England chasing a target of 251 runs in the fourth innings, Joe Root had been holding the innings together with his sublime batting. Root's elegant strokeplay and unwavering determination had put England in a promising position. However, it was Cummins who once again proved to be Root's nemesis.
Cummins, known for his accuracy and ability to extract bounce and movement off the pitch, delivered a well-directed ball aimed at Root's pads. Sensing an opportunity, Root attempted a forceful shot on the leg side. However, the ball took a faint edge off his bat and nestled comfortably into the gloves of wicketkeeper Alex Carey, ending Root's impressive innings.
This dismissal marked the 11th occasion in Test cricket that Cummins had claimed the prized wicket of Joe Root. It is a testament to Cummins' exceptional skill and his ability to consistently trouble one of England's finest batsmen. Each time the two face off, there is an air of anticipation, as fans eagerly await the outcome of their intriguing battle.
Throughout the match, both teams had their fair share of notable performances. Australia had set a target of 251 runs after making 263 in their first innings, with Mitchell Marsh leading the charge with a magnificent century, scoring 118 runs. In response, England had scored 237 in their first innings, with Ben Stokes contributing a vital 80.
After Australia's second innings saw them reach a total of 224, thanks to Travis Head's resilient knock of 77, England faced a challenging chase. By the end of the 35th over, they were precariously placed at 168 for 5. Harry Brook, playing a crucial innings, was unbeaten on 47, while Chris Woakes had just joined him at the crease.
As the match progresses, the outcome hangs in the balance, with Cummins' dismissal of Root adding an intriguing twist to the contest. Cricket fans eagerly await the next chapter in this enthralling Ashes battle, where the skills of players like Pat Cummins and Joe Root continue to enthrall and captivate audiences around the world.
Here's how Twitter reacted: 
Cumball reigns superior on Baz Ball

— ICT_Dyche (@PBKS_Dyche) July 9, 2023
Aussies are giving tough fight even with a target of 250👏👏👏

— Arpit Tiwari (@ArpitTi99169603) July 9, 2023
That's called best vs best.

— kundan chaurasiya (@its_kundan0) July 9, 2023
ENG winning it easily

— msd_stan (@bdrijalab) July 9, 2023
Captain Pat Cummins gets the main man Joe Root.

England 4 down now with 120 more needed. pic.twitter.com/OPgejbPMmc

— Mufaddal Vohra (@mufaddal_vohra) July 9, 2023
Joe Root vs Pat Cummins in Tests:

Runs – 231
Balls – 477
Wickets – 11
Average – 21

Incredible from Cummins, he dominates the best ones in the modern era. pic.twitter.com/8Gxb0WDYzs

— Johns. (@CricCrazyJohns) July 9, 2023
Cummins have 99 problems but taking root's wicket isn't one of them. pic.twitter.com/OIryCFXgEM

— Rafi Sikder (@rafi_sikder17) July 9, 2023
Joe Root vs Pat Cummins at this point has worst matchup than David Warner vs Stuart Broad,but it doesn't get nearly as much talk or memes.#Ashes2023 #CricketTwitter pic.twitter.com/Is55PQNxRA

— Akash (@Akashkumarjha14) July 9, 2023
Pat Cummins gets Joe Root for 11th times in Test Cricket.

PAT CUMMINS – WHAT A BOWLER. pic.twitter.com/BrjbaivL1s

— CricketMAN2 (@ImTanujSingh) July 9, 2023