'End of an era': Twitter reacts as Ajinkya Rahane, Cheteshwar Pujara dropped from India squad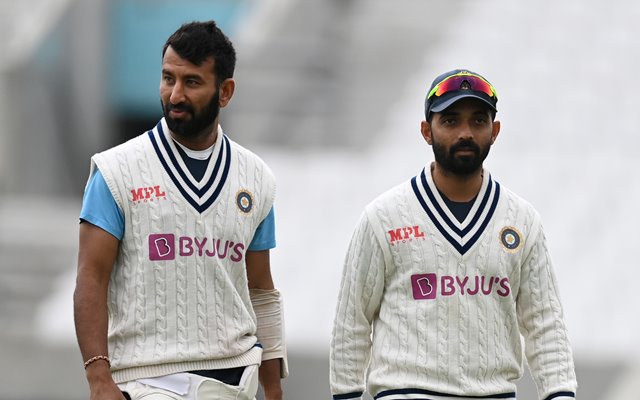 Former India Test vice-captain Ajinkya Rahane and Cheteshwar Pujara have been dropped from the team ahead of the two-match Test series against Sri Lanka at home. Both players have had a forgettable time with the bat in the last year. Rahane could only score two half-centuries with the bat in 13 games. Pujara scored three more fifties than Rahane but both players couldn't build on their batting form for the next matches.
Both were instrumental in helping the team win the Border-Gavaskar Trophy last year. Rahane amassed 268 runs, averaging 38.28 with one hundred. On the other hand, Pujara amassed 271 runs in as many games, averaging 33.87 with three fifties as the team went on to win the series despite missing big-ticket players. Since then, their batting form declined.
In the next series against England at home, the number three batter could muster only 133 runs, averaging 22.16 including one fifty in the first match. On the other hand, the former vice-captain managed only 112 runs, averaging 18.66 with one fifty in the second game.
In the return series against England in their backyard,  Pujara amassed just 227 runs in four game, averaging 32.42 with two fifties. Rahane could only muster 109 runs in as many games with one fifty at the Lord's. In the home series against New Zealand, both players struggled.
On the tour of South Africa, Rahane amassed only 136 runs, averaging 22.66 with one fifty while Pujara scored 124 runs at 20.66 with one fifty. Both players are currently playing Ranji Trophy and Rahane has scored a hundred on February 17. The string of low performance led to the BCCI axing the senior players. However, the board said it is not the end of road for the duo and they have asked them to go and play Ranji Trophy.
This is how Twitter reacted
https://twitter.com/malay_chasta/status/1494991394007490560?s=20&t=EqNKcBFF-BX8eX9ewDyshQ
https://twitter.com/DanielSamsDolan/status/1494908303951859712?s=20&t=EqNKcBFF-BX8eX9ewDyshQ
Cheteshwar Pujara addressing the Saurashtra players in a huddle. It lasts for five and a half minutes sharp. Not a bad person to turn to for a pep talk, eh? #RanjiTrophy pic.twitter.com/mLOfXtg0xs

— Ayan (@ayan_acharya13) February 19, 2022
https://twitter.com/diwakarkumar47/status/1494997634997637123?s=20&t=EqNKcBFF-BX8eX9ewDyshQ
https://twitter.com/CoverDrive001/status/1494997791067676672?s=20&t=KRBqcrZz-VE-eDpJB5cmuA
This is very unfair and shameful from BCCI. It's been an hour and they have still not shared any farewell tribute for Cheteshwar Pujara and Ajinkya Rahane. #INDvSL

— Sameer Allana (@HitmanCricket) February 19, 2022
Once a time I thought Ajinkya Rahane would be the ideal test captain after Virat.
Time changes.
#INDvSL

— S (@sr9949) February 19, 2022
Virat Kohli was one & only who backed Ajinkya Rahane and Cheteshwar pujara since ages. Though era end. 😔

— DK (@CricCrazyDK) February 19, 2022