ICC announces schedule for T20 World Cup 2022, India-Pakistan to lock horns on October 23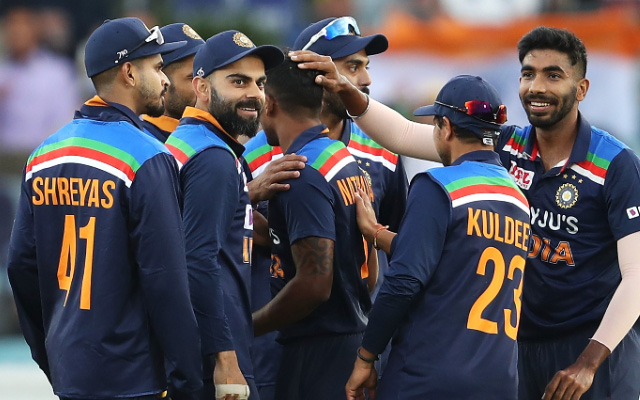 In what comes as breaking news, the International Cricket Council (ICC) has announced the much-awaited schedule for the upcoming edition of the T20 World Cup (WC). The ICC T20 WC 2022 is slated to start on 16th October. The tournament will take place for almost a month and thus, ends on November 13.
While Australia are hosting the ICC trophy for the shortest format of the game this time around, the first game of the Super 12 stages shall see them lock horns against New Zealand on 23rd October 2022. Both of these teams were the finalists of the previous edition in 2021, which was held in the United Arab Emirates (UAE). The Super 12 stages shall see two groups, i.e. Group 1 and Group 2, with Group 1 consisting of Australia, Afghanistan, England, and New Zealand as of now.
The teams in the second group currently include India, South Africa, Pakistan and Bangladesh. It is to be noted that the first game of Group 2 shall see the mega clash between India and Pakistan. However, before all of this, the qualifying matches will be held from October 16 to October 21.
This shall determine the four teams that will join the other eight teams, which have already qualified for the second round of the tournament. The ICC T20 WC 2021 was won by Australia. However, the West Indies are the most successful side in the tournament history as they have won the T20 WC twice (2012 and 2014).
ICC T20 WC 2022 Schedule:
First Round, Qualifying Matches
Oct. 16: Sri Lanka vs Namibia – 9:30am – Kardinia Park, Geelong
Oct. 16: Q2 vs Q3 – 1:30pm – Kardinia Park, Geelong
Oct. 17: West Indies vs Scotland – 9:30am – Bellerive Oval, Hobart
Oct. 17: Q1 vs Q4 – 1:30pm – Bellerive Oval, Hobart
Oct. 18: Namibia vs Q3 – 9:30am – Kardinia Park, Geelong
Oct. 18: Sri Lanka vs Q2 – 1:30pm – Kardinia Park, Geelong
Oct. 19: Scotland vs Q4 – 9:30am – Bellerive Oval, Hobart
Oct. 19: West Indies vs Q1 -1:30pm – Bellerive Oval, Hobart
Oct. 20: Sri Lanka vs Q3 – 9:30am – Kardinia Park, Geelong
Oct. 20: Namibia vs Q2 – 1:30 -pm – Kardinia Park, Geelong
Oct. 21: West Indies vs Q4 – 9:30am – Bellerive Oval, Hobart
Oct. 21: Scotland vs Q1 – 1:30pm – Bellerive Oval, Hobart
Super 12 Schedule
Group 1 Fixtures
Oct. 22: Australia vs New Zealand – 12:30pm – SCG, Sydney
Oct. 22: England vs Afghanistan – 4:30pm – Perth Stadium
Oct. 23: A1 vs B2 – 9:30am – Bellerive Oval, Hobart
Oct. 25: Australia vs A1 – 4:30pm – Perth Stadium
Oct. 26: England vs B2 – 9:30am – MCG, Melbourne
Oct. 26: New Zealand vs Afghanistan – 1:30pm – MCG, Melbourne
Oct. 28: Afghanistan vs B2 – 9:30am – MCG, Melbourne
Oct. 28: England vs Australia – 1:30pm – MCG, Melbourne
Oct. 29: New Zealand vs A1 – 1:30pm – SCG, Sydney
Oct. 31: Australia vs B2 – 1:30pm – The Gabba, Brisbane
Nov. 1: Afghanistan vs A1 – 9:30am – The Gabba, Brisbane
Nov. 1: England vs New Zealand- 1:30pm – The Gabba, Brisbane
Nov. 4: New Zealand vs B2 – 9:30am – Adelaide Oval, Adelaide
Nov. 4: Australia vs Afghanistan – 1:30pm – Adelaide Oval, Adelaide
Nov. 5: England vs A1 – 1:30pm – SCG, Sydney
Group 2 Fixtures
Oct. 23: India vs Pakistan – 1:30pm – MCG, Melbourne
Oct. 24: Bangladesh vs A2 – 9:30am – Bellerive Oval, Hobart
Oct. 24: South Africa vs B1 – 1:30pm – Bellerive Oval, Hobart
Oct. 27: South Africa vs Bangladesh – 8:30am – SCG, Sydney
Oct. 27: India vs A2 – 12:30pm – SCG, Sydney
Oct. 27: Pakistan vs B1 – 4:30pm – Perth Stadium, Perth
Oct. 30: Bangladesh vs B1 – 8:30am – The Gabba, Brisbane
Oct. 30: Pakistan vs A2 – 12:30pm – Perth Stadium, Perth
Oct. 30: India vs South Africa – 4:30pm – Perth Stadium, Perth
Nov. 2: B1 vs A2 – 9:30am – Adelaide Oval, Adelaide
Nov. 2: India vs Bangladesh – 1:30pm – Adelaide Oval, Adelaide
Nov. 3: Pakistan vs South Africa – 1:30pm – SCG, Sydney
Nov. 6: South Africa vs A2 – 5:30am – Adelaide Oval, Adelaide
Nov. 6: Pakistan vs Bangladesh – 9:30am – Adelaide Oval, Adelaide
Nov. 6: India vs B1 – 1:30pm – MCG, Melbourne
Knockout Fixtures
Nov 9: Semifinal 1 – 1:30pm – SCG, Sydney
Nov 10: Semifinal 2 – 1:30pm – Adelaide Oval, Adelaide
Nov 13: Final – 1:30pm – MCG, Melbourne