Pakistan players praying for Virat Kohli's 71st hundred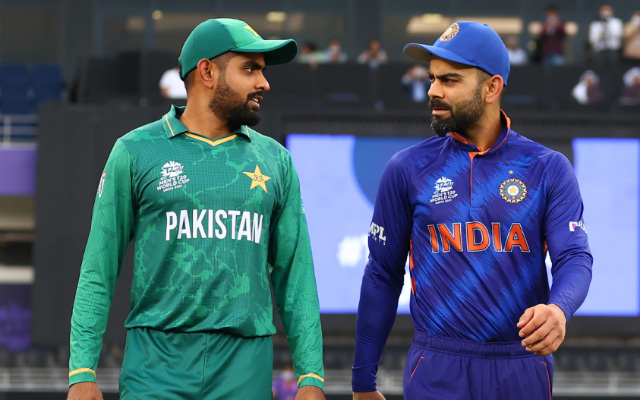 While India and Pakistan are generally seen as two rival nations, cricket is one thing that connects the two nations. The cricket crazy fans know no bound and have great admiration for cricketers of both countries. While Babar Azam is much loved in India, Virat Kohli enjoys enjoys a huge fan following in Pakistan. Several Pakistan fans have gone on record to say that Virat Kohli is the greatest batter of the modern era, and Babar needs to do a lot before being compared to  theIndia legend.
While Kohli has been scoring runs, he has not been able to get past the three digit score. His last century came against Bangladesh in 2019. While fans in India are desperately waiting for Kohli's 71st ton, Pakistan players too are not far behind.
Hasan Cheema- Islamabad United's strategy manager, ran a thread on Twitter and revealed that Pakistan players are praying for Virat Kohli's 71st century.
"Don't wanna tweet much in PSL, but 1 thing I've found just too hard to ignore. Find it fascinating that everyone I talk to, from our guys to Pakistan team guys in other teams, everyone's hoping (& in some cases PRAYING) for Kohli to get a 100. Game recognize game like no other," wrote Cheema in the tweet.
"Sorta restores my faith in humanity. But I can also get why they'd have more empathy for him than us normal ppl. If anyone can relate to a board being weird & fans being demanding, it's them guys. Several times in the past week I've heard 'laug to Kohli tak ko nahi bakhshte' (People don't even spare Kohli)", he added.
"Although now that I think about it, why wouldn't they love and appreciate him. They're cricket fans first and foremost after all. The fact that it surprised me is a reminder of how much brain poisoning I have from Twitter and traditional media over these things," he concluded.
Kohli will get an opportunity to break past the landmark in the upcoming three match ODI series against West Indies. The series gets underway on February 6. Kohli has six half centuries in the last eight ODI innings thus one can assume that a century is not far away.