'Rahane is a great player, he'll score big runs against New Zealand' – Cheteshwar Pujara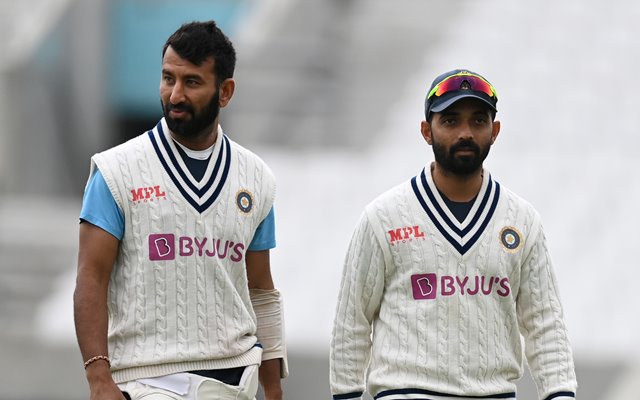 India batter Cheteshwar Pujara has backed Ajinkya Rahane to come good in the upcoming two-match Test series against New Zealand. Rahane is going through a lean patch and many are questioning his place in the team. Barring a hundred against Australia in Melbourne, Rahane has struggled to get going. In the previous series against England, Rahane averaged a mere 18.67. Pujara termed Rahane as a classy player and said he is just one inning away from getting back to form.
"Rahane is a great player. There will be ups and downs in any players' career. He has been working hard in the nets and we are hoping he'll score big runs in this series," Pujara told reporters in a virtual press meet ahead of the Test series opener against New Zealand.
Pujara himself has been under fire for his lack of runs. However, his numbers are better than that of Rahane. India's 3 batter scored over 200 runs in England at an average of over 30. Pujara has often been criticised for his slow batting but in England, he looked very positive, trying to take the attack to the opposition. Pujara said he will look to play aggressive cricket against New Zealand as well.
"My mindset was a lot more different in the England Test series, I was a lot more fearless," Pujara said. "There was not much change in technique. So far preparations for the New Zealand series has been good and I'll look to carry that same fearless mindset against the Kiwis as well."
"Although I didn't play any match, I was part of an IPL team (Chennai Super Kings). I went to practice with CSK and trained with them regularly. We also had a five-day camp in Mumbai to prepare for the NZ series which has been really good,"
The two-match Test series kicks off on November 25 in Kanpur.