'That experience is priceless' – Virat Kohli on Cheteshwar Pujara and Ajinkya Rahane ahead of the third Test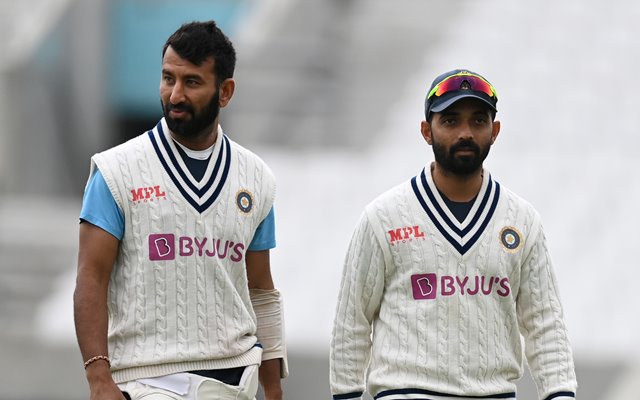 While Virat Kohli couldn't play the second of the three-match Test series due to a back spasm, he has recovered and will play the third Test in Cape Town. Thus, despite showing positive signs with the bat in the Johannesburg Test, Hanuma Vihari would have to make way for India's regular skipper in the longest format of the game.
The positions of Cheteshwar Pujara and Ajinkya Rahane were in question for a really long time. Nevertheless, both of them scored half-centuries in India's second innings of the second Test. Despite their career-saving knocks, both of them alongside their skipper Kohli has had a torrid time with the bat of late.
However, the Delhi batter felt that the experienced middle-order always steps up during overseas games. He also spoke about the crucial half-centuries by Pujara and Rahane in the second Test. Last but not the least, the 33-year-old also spoke about the "middle-order" transition.
"Can't pinpoint about the middle-order transition. It will happen naturally. Jinks [Ajinkya Rahane] and [Cheteshwar] Pujara batted well in the 2nd innings of the last Test. That experience is priceless. When you are playing overseas, these guys will always step up," the Indian skipper told in the press conference ahead of the third Test.
Another important point to be noted is the fact that Vihari and Shreyas Iyer have been playing well for quite a while now. The Andhra Pradesh batter had a good time during his stint with the A-side, and looked decent during the Johannesburg Test. On the other hand, the 27-year-old scored a century during his Test debut against New Zealand at Nagpur.
Thus, the heat is on India's senior players in the middle-order to start delivering consistently. Nevertheless, the hosts are expected to make just the two changes for the series decider at Newlands. Apart from Kohli, Umesh Yadav or Ishant Sharma are likely to replace Siraj replacing the injured Mohammed Siraj.