'Wah ji wah'- Fans react as Indian Men's football team rises to 100th in FIFA Men's world rankings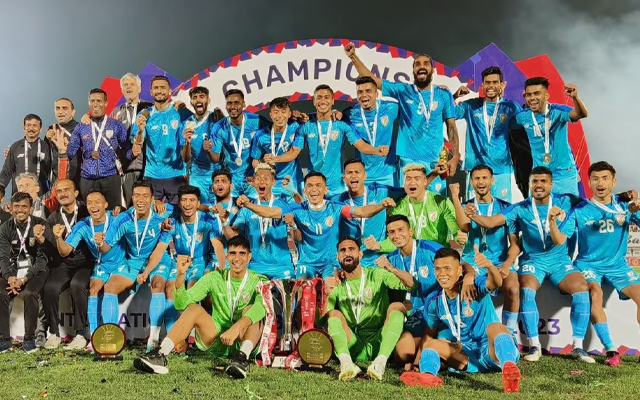 The Indian men's national football team has risen to the 100th position in FIFA's newest world rankings, surpassing nations such as Lebanon and New Zealand in the process. After falling from 96th place in 2018, the Indian men's football team finally made it into the top 100 after five years. With a total of 1204.90 points, the Indian men's football team ranked 100th.
This is the Indian men's football team's fourth-highest rating in history. The team's ranking previously rose to 94th in 1996, 99th in 1993, and 96th in 2017 to 2018. This success follows India's recent Intercontinental Cup win, in which they won their second title by defeating Lebanon 2-0 in the final on June 18 in Bhubaneswar.
India's football team performance
The Indian squad is currently prepared to play Lebanon in the South Asian Football Federation (SAFF) Championship semi-finals on July 1 in Bengaluru. India has an outstanding record in this tournament, having won it eight times in 1993, 1997, 1999, 2005, 2009, 2011, 2015, and 2021, making them the tournament's most successful team.
In 2023, they have won seven of nine games while drawing twice, most recently against Kuwait in the current SAFF Championship and Lebanon in the Hero Intercontinental Cup. This year, Igor Stimac's men also won two titles: the Hero Tri-Nation Series and the Hero Intercontinental Cup. India has also scored 15 goals while keeping eight clean sheets in a succession in the nine games since the loss to Vietnam in September 2022, a new national record.
Sunil Chhetri has been India's major player in this competition, leading the goal scorers' list with five goals in three games. The total amount of goals includes a hat-trick against Pakistan. His unwavering commitment to lead the team's onslaught was exemplified by his incredible volley against Kuwait in India's most recent league encounter.
Top 10 FIFA rankings team
FIFA 2022 World Cup champions Argentina is in first place, with France in second place. The next three teams on the list are Brazil, England, and Belgium. Croatia is ranked sixth, followed by the Netherlands, Italy is ranked eighth, while Portugal and Spain are ninth and tenth respectively.
Here's how fans reacted
😂… yeah … play football at #sheeshmahal

— Rakesh Sharma (@docinboxes) June 29, 2023
12-13 is too many. Only 4-5 nations take cricket seriously

— Jayant (@jayantCRnole) June 29, 2023
Focus on your ashes. England is looking to loose ashes series .🤣

— Rajesh (@Rajesh68010560) June 29, 2023
Let's all support and pray our Men in Blue reach much higher. They've done us proud. And @chetrisunil11 is an absolute champion

— Dr Saurabh S Sachar 🇮🇳 (@doc_sacharr) June 29, 2023
Great achievement from a nation which has a population of 1.45 billion still cannot produce 20 players

— Mayank (@Mynk_88) June 29, 2023
Yes. It was. After India's SAFF group matches, Belarus and Trinidad & Tobago won match later and return to 98th and 99th position. If India win Semi final against Lebanon on 1st July and Final against Kuwait/Bangladesh on 4th July, India will return to 98th position.

— Asim Minhaj (@AsimMinhaj1) June 29, 2023
Great… journey to regain our glorious past in football.

Proud of you team India.

👏👏👏👏👍

— Yogendra Singh (@yogendr70977873) June 29, 2023
😂😂

— Harsha (@Harsh25881) June 29, 2023