'It's as if he's taken a vow to step out very first ball' – Salman Butt slams Rishabh Pant for poor shot selection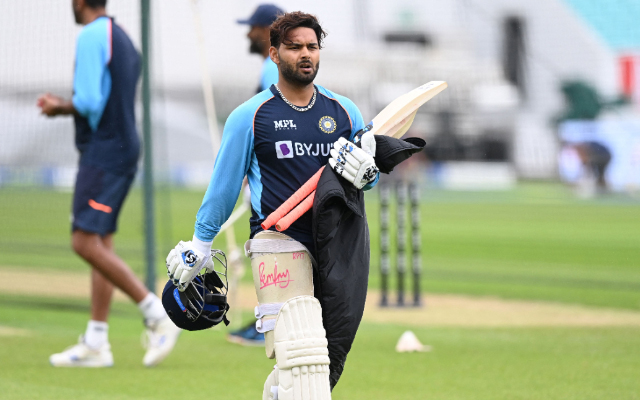 Former Pakistan captain Salman Butt has slammed Indian wicketkeeper Rishabh Pant for his batting performance in the recently-concluded ODI series against South Africa. In the third ODI, India lost the match by a mere margin of four runs. Pant charged down the pitch and tried to hit the very first ball out of the park but failed to connect the ball and was dismissed for a duck.
Butt explained that Pant should have stayed at the crease for a bit longer duration and then should have played his natural game. He mentioned that an innings of 20-25 runs would have created a difference for the Indian team. He further added that Pant has been in very good form and has made runs whenever he has played sensibly.
"Take Rishabh Pant's example; the partnership (for the last wicket) was set and he should have taken his time because the scoring rate was also healthy. Even with a run-a-ball 20 or 25, he could have taken India to a win very easily.
He is s such a good stroke player who is capable of achieving any target. It's as if he has taken a vow to step out very first ball. Not sure if someone tells him to do so before he walks out to bat or he fantasizes about doing something extraordinary on the very first ball. It is not sensible. His form is good currently and whenever he stays, he scores big. So, he should utilize it," Butt said in his latest YouTube video where he analysed India's performance on the tour to South Africa.
India lost the Test series against South Africa by a 2-1 margin after which Virat Kohli decided to leave the captaincy position. India lost the ODI series by a 3-0 margin under KL Rahul's captaincy who made his captaincy debut for India.
India's team selection was not great: Salman Butt
Butt further added that India's bowling lineup lacked pace and the team selection was not right. Butt also mentioned that Indian batters failed to convert the start that they received as no Indian batter was able to make a century in the ODI series.
"If we go with pure cricketing reasons, then the selection wasn't great as far as the bowling line-up is concerned. It lacked pace. In the batting department, no one was able to convert their 50s and 60s into a century. If you look at the difference between India and South Africa in these matches, you'd notice that their (SA's) batters would go on to play a big innings after getting set," Butt said.