Rahane and Pujara are great players, hopefully they'll score lot of runs in Ranji Trophy: Sourav Ganguly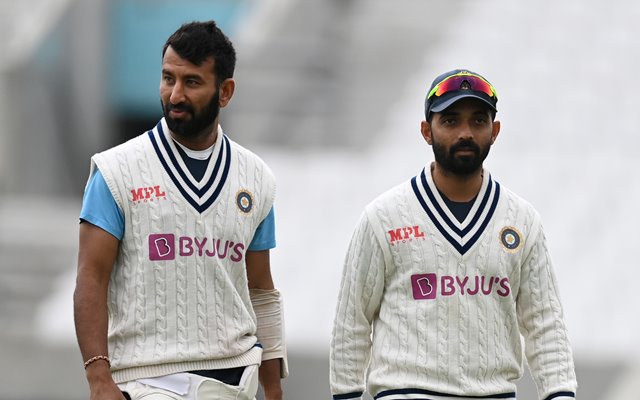 After a long wait, the Ranji Trophy is all set to return. It will be played in two phases in 2022 – the first phase will take place in February, while the knockout stage will be played after the 2022 IPL.
This comes as a huge sigh of relief for all the domestic players as the red-ball tournament was not conducted last year due to the COVID-19 pandemic and has been affected this year already, affecting the domestic players both professionally as well as financially. Thus, Sourav Ganguly went on to speak about the same.
The BCCI president spoke about the efforts put into staging the tournament despite the pandemic. He admitted the fact that it was challenging to find a window. He also stated that the Ranji Trophy is the most important tournament in India.
Ranji Trophy is a huge tournament: Sourav Ganguly
"Obviously, we missed one year of Ranji Trophy – the 2020-21 season. It is the most important tournament in India, and we always wanted to organise it. But what the world has seen in the last two years, I don't think it has happened in anybody's lifetime. So keeping all these things in mind, it was actually a challenge to organise any tournament," Sourav Ganguly told Sportsstar.
In the meanwhile, the former Indian captain reckoned that it would be a good idea for Cheteshwar Pujara and Ajinkya Rahane to go back to playing Ranji Trophy in order to get their lost form back. He felt that both of them could start getting amongst runs if they go back to the red-ball tournament. He also mentioned that there isn't any issue in doing so.
"Yeah, they are very good players. Hopefully, they will go back to Ranji Trophy and score a lot of runs, which I am sure they will. I don't see any problem for them to go back to domestic cricket after playing so much international cricket. Ranji Trophy is a huge tournament, and we have all played the tournament," he said.
It is to be noted that Puraja and Rahane have had a torrid time with the bat of late. Neither of them have scored a hundred in the last 12-13 months. Moreover, the duo haven't lived up to their reputation, and have been inconsistent for quite a while now.
"So, they, too, will go back there and perform. They have played the tournament in the past when they were only playing Test cricket and were not part of the ODI or limited-overs team. So, that won't be a problem," he added.