'Thank u Purane' : Pujara, Rahane blown away on Twitter by angry fans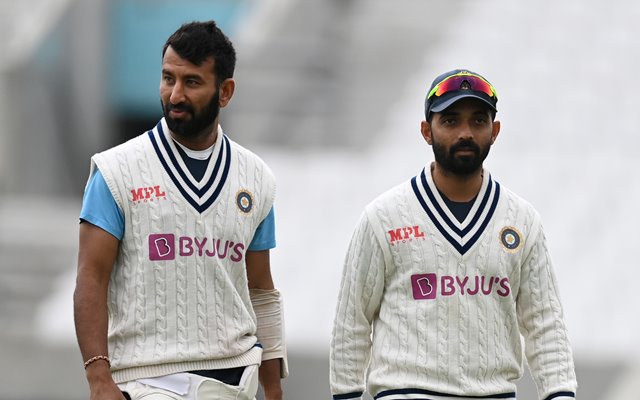 Cheteshwar Pujara and Ajinkya Rahane were continuously being criticized for their poor form, and their performance in India's second innings of the third Test might have just put the final nail in their coffin. Both of the veteran batters were dismissed within a span of less than 12 balls.
Pujara, who was batting at 9, couldn't add to his overnight score, and was dismissed on the first over of day three. The fact that he couldn't capitalize after batting for 33 balls was disappointing, to say the least. On the other hand, Rahane was able to score just the one run before he edged one to Dean Elgar at first slip.
Although India's number three batter did score 43 in the first innings of the Test, his inconsistency has been a huge concern. Moreover, his lack of intent is what has caused a concern over his position in the XI. As for India's former vice-captain, the long rope which has been given to him seems to have come to an end.
Rahane has scored just three fifties in his last 15 Tests, and has been terribly out of form for quite a while now. To make matters worse for him, Hanuma Vihari and Shreyas Iyer had performed brilliantly in their limited opportunities. Thus, it won't be surprising if the Newlands Test turns out to be his final appearance for the Asian side.
Several cricket fans on Twitter were unhappy with their dismissals as well. They vented out their frustration by criticizing the duo, as well as questioning their places in the XI. Some of the fans even went on to troll them, and shared memes on the Indian batters too. Nevertheless, Virat Kohli and Rishabh Pant put together a good partnership after the two quick wickets. The Indian Test captain and the wicket-keeper batter added 94 runs for the fifth wicket before Kohli departed.  India are 162-6 at the time of writing.
#vihari & #ShreyasIyer
After watching #PURANE pic.twitter.com/1wgtXRz6C4

— Harry (@ThodiStudy) January 13, 2022
After 2 year bad Performance Team management still give them chances..

Iyer, Vihari, Gill to team management #INDvsSA #PURANE
#AjinkyaRahane pic.twitter.com/SuSZnfrbST

— Vaibhav D (@Vaibhav04563161) January 13, 2022
https://twitter.com/JakharDILIP_2/status/1481551161618415618?s=20
Fans to rahane and pujara : #INDvsSA #PURANE pic.twitter.com/7D2wQEoHbn

— Prathamesh (@Memesrestic) January 13, 2022
After watching the batting of Ajinkya Rahane and Cheteswar Pujara :-#PURANE #INDvsSA #AjinkyaRahane pic.twitter.com/lmhhsZ00N5

— Innocent Child (@bholaladkaa) January 13, 2022
List of reasons why Ajinkya Rahane should play next test series. #INDvsSA #PURANE pic.twitter.com/wWoy2ppdht

— Positive Entropy (@EntropyPositive) January 13, 2022
After 2 year bad Performance Team management still give them chances..

Iyer, Vihari, Gill to team management #INDvsSA #PURANE
#AjinkyaRahane pic.twitter.com/SuSZnfrbST

— Vaibhav D (@Vaibhav04563161) January 13, 2022