10 Best Tweets On MS Dhoni's New Moustache Look From Indian T20 League 2022 Teaser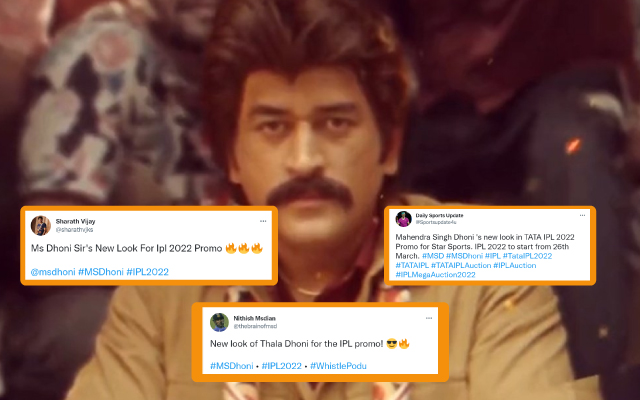 It is safe to say that MS Dhoni is himself a brand. Thus, his presence alone is enough to create buzz. This is one of the major reasons why he features in a lot of advertisements.
As a matter of fact, Dhoni has been in several Indian T20 league Ads. Over the years, several ads promoting the biggest T20 league have seen the legend. Thus, he has to get a new look for each ad. Recently, Dhoni was seen in an all-new avatar and played the role of a bus conductor.
He had a complete makeover, as he had to don an intriguing look. He was absolutely sensational in the ad. As a result, he started to trend on Twitter once again. This ad was released a few weeks ago and took the internet by storm. It instantly went viral and several people went on to comment on Dhoni's new look.
However, it was his moustache that gained the limelight. Several users took to Twitter to comment on the same. The fact that Dhoni pulled out this dazzling avatar to perfection not only managed to impress his fans, but also the other viewers as well.
In the meanwhile, Chennai are all set to face Kolkata on March 26. This also happens to be the first game of the fifteenth edition of the Indian T20 league. It is to be noted that these two teams made it to the final of the previous edition in 2021, with the Dhoni-led side beating them and winning their fourth title. The defending champions would be hoping to win their fifth title.
Besides, they were fairly decent during the mega auction. While they managed to buy back several players, they also purchased some new players. As far as Dhoni is concerned, he would want to silence his critics and have a good season with the bat this time around.
https://twitter.com/CricHarsha/status/1499630335960629252?t=igRvB1GCeHUV3d4Fe4C39A&s=19
'Super over is going on' – MS Dhoni turns swaggy bus driver in new IPL 2022 ad https://t.co/yHWo2twhvS

— Uttar Pradesh News Today – Uttar Pradesh Live (@NewsBreakingUP) March 4, 2022
MS Dhoni Dresses Up As Bus Driver In New IPL 2022 Ad (Watch Video) | 🏏 LatestLY 💥👩👩💥 https://t.co/aSI4zvjXJH

— Lael Eilerman (@EilermanLael) March 4, 2022
https://twitter.com/roys_sea/status/1497584182360379395?ref_src=twsrc%5Etfw%7Ctwcamp%5Etweetembed%7Ctwterm%5E1497584182360379395%7Ctwgr%5E%7Ctwcon%5Es1_c10&ref_url=https%3A%2F%2Fd-40454512522228866623.ampproject.net%2F2202230359001%2Fframe.html
MS Dhoni has a new look for #IPL2022 promo pic.twitter.com/1vrQprZQy8

— All About Cricket (@allaboutcric_) February 26, 2022
Mahendra Singh Dhoni 's new look in TATA IPL 2022 Promo for Star Sports. IPL 2022 to start from 26th March. #MSD #MSDhoni #IPL #TataIPL2022 #TATAIPL #TATAIPLAuction #IPLAuction #IPLMegaAuction2022 pic.twitter.com/H9k5xfpvRv

— Daily Sports Update (@Sportsupdate4u) February 26, 2022
MS Dhoni is looking cute in new look 😍💛#MsDhoni𓆉 #DhonisNewLook #IPL2022 #followback pic.twitter.com/kzOfHekjOZ

— Innocent_girl🦋💛 (@Innocent_girl_8) February 26, 2022
https://twitter.com/imAnjali718/status/1497577911242555396?ref_src=twsrc%5Etfw%7Ctwcamp%5Etweetembed%7Ctwterm%5E1497577911242555396%7Ctwgr%5E%7Ctwcon%5Es1_c10&ref_url=https%3A%2F%2Fd-40454512522228866623.ampproject.net%2F2202230359001%2Fframe.html
https://twitter.com/thebrainofmsd/status/1497552858505302023?ref_src=twsrc%5Etfw%7Ctwcamp%5Etweetembed%7Ctwterm%5E1497552858505302023%7Ctwgr%5E%7Ctwcon%5Es1_c10&ref_url=https%3A%2F%2Fd-40454512522228866623.ampproject.net%2F2202230359001%2Fframe.html
https://twitter.com/sharathvjks/status/1497570115746861058?s=20&t=Q7yIo4e80K-yWxYXPgnRew