India's heptathlon athlete makes controversial remarks on fellow athlete, tweet deleted later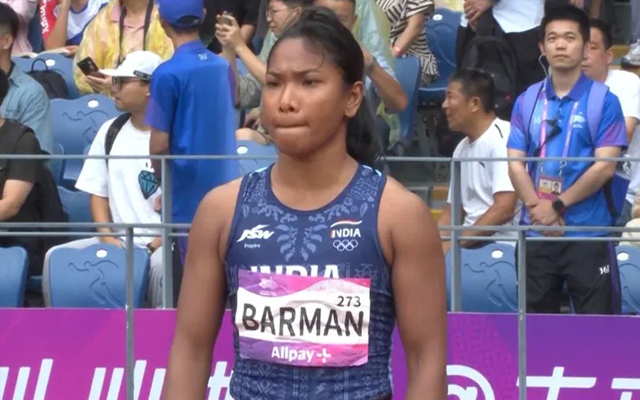 In the heptathlon event of the ongoing Asian Games 2023, India's Swapna Barman lost her title which she won last time around. She was dethroned by her fellow Indian athlete, Nandini Agasara. Barman was only four points behind Agasara, who bagged a silver medal. On the other hand, the now-former champion returned empty-handed. Miffed with the defeat, Barman alleged that her competitor was transgender and her participation was against the rules.
"I have lost my Asian Games bronze medal to a transgender woman at the 19th Asian Games held in Hangzhou, China. I want my medal back as it is against the rules of our Athletics. Help me and support me please," she wrote on X (formerly Twitter).
Nandini amassed an aggregate of 5712 points, a personal best. She even topped the 800-meter race and won the 200-meter race which is why she has 936 points to her name. Talking about the rules, that came in effect on March 31, says that players who have gone through what has been defined as 'male puberty' by World Athletics is barred from competing in female world ranking events.
Swapna Told The Bridge, "Transgender athletes, who have testosterone levels above 2.5, cannot compete in events over 200 meters. No girl can come up in a heptathlon so fast. I have trained for 13 years in this, it is impossible that she trains for four months and gets to this level."
"It is because of the support given to me by the Athletics Federation of India and the government of India that I have been able to come this far. I thank each and everyone who supported me, especially the government of India for this medal. Thank you each and everyone who supported me," she said after winning the medal.